Saturday, May 23, 2015 / by Jackie Spiro
The U.S. Census Bureau released population estimates today that reveal America's urban growth patterns over the last year. One of the big takeaways from an analysis of the data is that while people still throng to destinations such as New York, Los Angeles, and San Francisco, many cities in the Sunbelt are overtaking these urban hotspots in terms of population growth.
Here's a table showing the 11 cities that are comparable in size to San Francisco but showed more growth—both in raw population number and percentage change—from 2013 to 2014: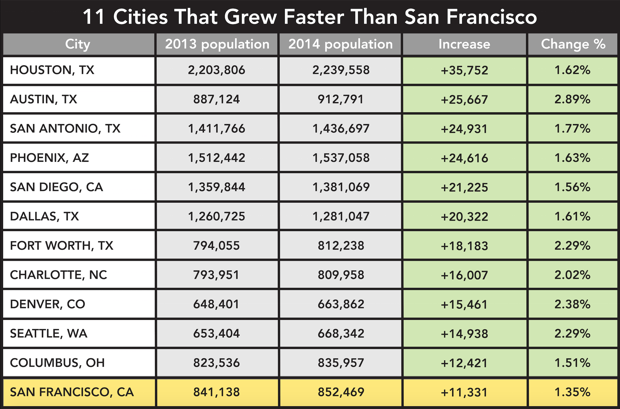 Mark Byrnes / CityLab
The cities on this list are by no means the fastest growing cities in America. Some smaller towns have exhibited more staggering growth rates, partly because they have more room to grow. San Marcos, Texas, for example, grew at a whopping 7.9 percent rate, from 54,567 residents in 2013 to 58,892 in 2014. It's been the fastest growing city for three consecutive years.
But we didn't want to compare apples to oranges, so we excluded those cities in our comparison with San Francisco, which has a sizable population (mid- 800,000) and has seen significant growth (1.3 percent). The cities we did compare have around the same, or more residents than San Francisco.
The above chart points out a key demographic trend: while population growthin the Sunbelt is picking up pace, growth in the most populous Northern metros has been slower.
"Those two coastal metropolitan areas, along with many Snow Belt locations, are experiencing increased out-migration as opportunities once again open up outside their lines."
The Sunbelt metros weren't doing so well when the recession started, but in the last couple of years, this region has seen an expanding job market and an increase in affordable housing stock. Both factors have been drawing young people and minorities to the sunny south, explains Brookings' demographer William Frey. Today's Census data suggests that cities in states such as Texas, Arizona, and North Carolina have experienced massive growth spurts as a result. Nine of the 11 big cities that have outpaced San Francisco's growth are in the Sunbelt region.
In fact, Sunbelt cities might be stealing residents away from more populous and more expensive cities like New York and Los Angeles. Today's data shows that growth in these two cities has decreased, compared with previous years. In a blog post today, Frey illustrated this slowdown in the following chart: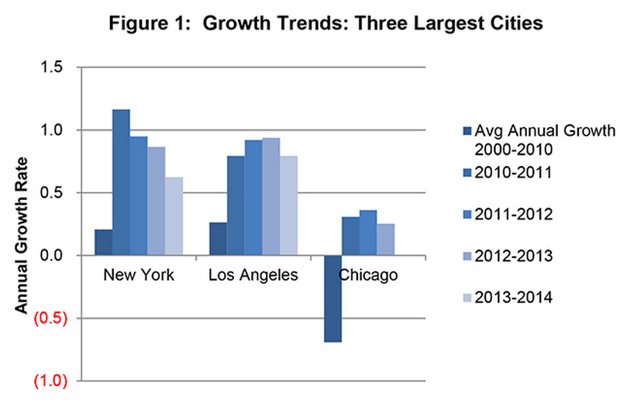 (The Brookings Institution/William Frey)